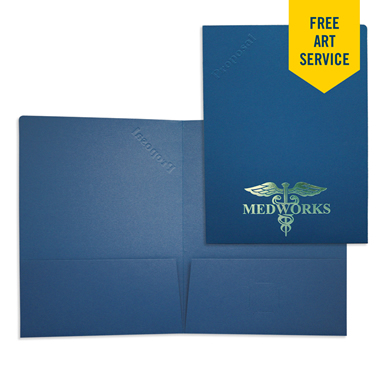 Budget Cutter™ Foil Stamped Two Pocket Folder
Item 08-91
Size: 9" x 12" rounded-corner folder with two 4 1/4" v-split pockets. Legal size available (see Item 08-97 below.)
Foil Stamping: One area, up to 15 square inches on the front cover. See Color Chart.
FREE Embossed Heading: Your choice of 8 standard headings, positioned in upper left corner of front cover. See specifications.
Art: Follow art guidelines and submit art on template.
Stocks: Base stocks included in price. Additional charge for other stock
groups. See color chart. Custom stocks are not a problem.
Production: 5 working days
Schedules can often be adjusted. Tell us what you need.
Business Card Slots: Standard in right pocket.
Proof: PDF or color digital available upon request.
Complete Your Presentation: