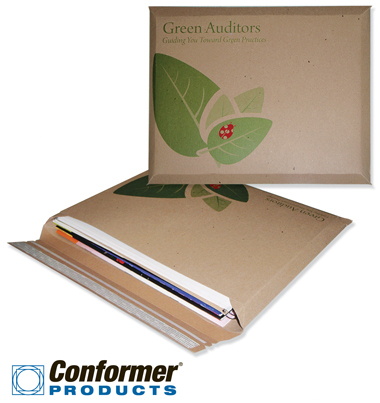 Eco Brown Kraft Conformer® Mailer
Item 16-12-ECO
Size: 10 1/2" x 12 3/4". Holds up to 1" and stays flat as capacity increases. Can be used to mail most 9" x 12" type folders.
Printing: Choose one or two PMS colors (no heavy coverage).

Art: Follow art guidelines and submit art on template.
Stock: 18 pt. Eco Brown Kraft Chipboard. 100% post-consumer unbleached recycled content. Paper is biodegradable and has visible recycling fleck. NOTE: Sheets can vary in color.
Production: 10-15 working days, based on quantity.
Tell us what you need.
Proof: Paperless PDF proof available upon request.
Complete Your Presentation: