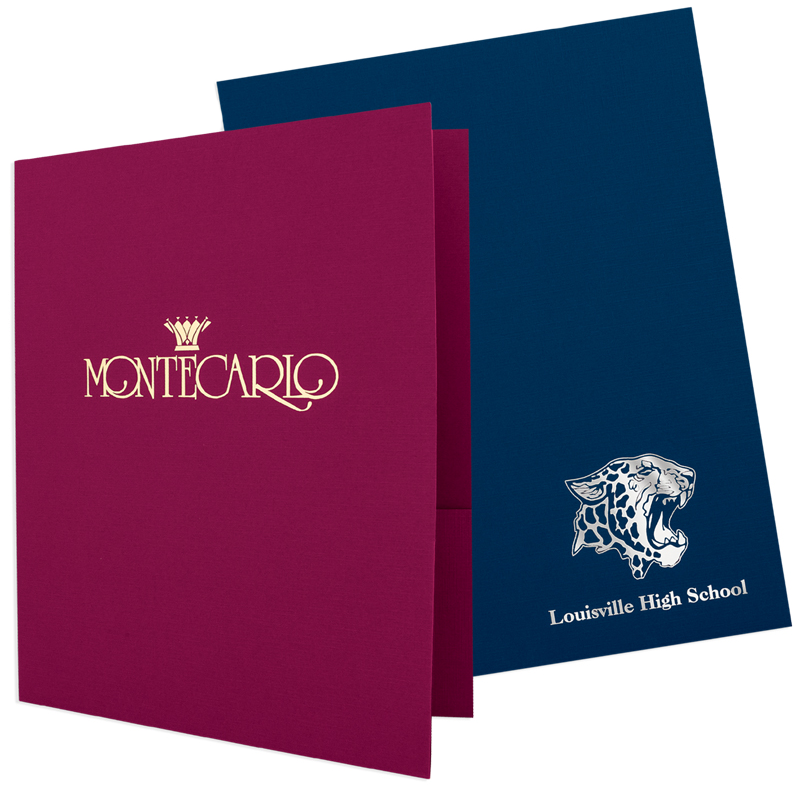 08-96-FOIL
3 Day Foil Stamped Economy Folder
Specs:
9" x 12" square corner folder with two 4" v-split pockets. Standard horizontal card slots in right pocket. Holds approximately 25 sheets per pocket.
Quantity:
Available:
Foil Stamped - One standard foil color. Front cover, one area up to 15 square inches.
Art:
Follow art guidelines and submit art on template.
FREE Art Service:
Don't have the right art for foil stamping? Don't worry. Just send us whatever logos and copy you do have we'll clean it up and turn it into a beautiful foil stamped imprint!
Stock:
Base stocks included in price. Additional charge for other stock groups. 130# Dull stock not available. See color chart.
Production/Schedule Requirements:
3 production days (without proof).
Based on approved credit. Complete order information and art file must be received by Noon ET (M-F) and your order ships 3 full production days later. Service not provided on weekends or holidays.
FREE card slots/slits:
Standard in right pocket as shown.
Proof:
PDF proof available upon request. Requires additional production time.
Packaging:
Pockets glued at outside edges. Ships final folded. Packaged up to 220 per box. 27 lbs. per box.
Shipping (included):
Ground shipping to one location within contiguous USA included in price.